NEW- Emergency Rental Application Program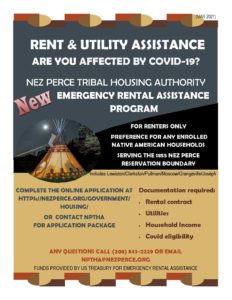 (Click Image to Enlarge)
-OR-
Print Application Here and Return To:
drop off in person at the Lapwai or Kamiah NPTHA Office, or
mail to NPTHA ERA Program PO Box 188 Lapwai, ID 83540
---
Upcoming Event
2021 Homebuyer & Financial Education Class Schedule
---
Mission
The mission of the Nez Perce Tribal Housing Authority is to create opportunities to meet the housing needs of enrolled members of the Nez Perce Tribe by maximizing the utilization of available resources to ensure services are provided in an efficient, professional, economical and timely manner; forming and enhancing partnerships between the NPTHA and tribal, state, local, and private entities; promoting self sufficiency and improving the quality of life.
Board of Commissioners
The Board of Commissioners (BOC) is comprised of five members elected by the NPT General Council. The key responsibilities of the BOC is to support our mission by establishing and updating policies and programs; monitoring and oversight of the NPTHA operations; providing guidance on goals and objectives to be achieved; prioritizing the services to be provided based on Tribal member needs assessments and approving the annual budget.
Counseling and Classes
The Senior Rehab Program assists low-income senior citizen home owners in completing essential repairs, with a maximum amount of $4,500.
The ICDBG Home Repair Program assists low-income homeowners in completing essential repairs and making energy improvements.
Available Individual Classes
The housing authority provides classes on:
Home buyer education
Money basics
Renter rights and responsibilities
Do-it-yourself maintenance
Homeowner maintenance
Post-purchase issues for home buyers
Tenant Policies
Employment Opportunities
Nez Perce Tribal Housing Authority is accepting applications for an experienced:
FINANCE & OPERATIONS MANAGER
To administer and manage all aspects of accounting and general operations.  Full-time w/excellent benefits.  Bachelor's degree in Business or Accounting; 5 yrs experience as full charge bookkeeper; or Associate degree w/five years full charge bookkeeping; min 3 yrs supervising.  Direct experience in public/Indian housing accounting, banking, financing, audit preparation is desirable, applicant must possess excellent verbal and written communication skills, knowledge of human resource requirements, financial reporting, proficiency in financial software applications, and procurement practices. Salary – DOQ, Indian preference will apply, Open until Filled. send NPTHA job application and 3 work-related references to Executive Director, Nez Perce Tribal Housing Authority, P. O. Box 188, Lapwai, ID 83540.  Or email lauriec@nezperce.org For more information please call 208 843-2229: POSTED 6/8/2021.
MAINTENANCE CUSTODIAN/WORKER
The Nez Perce Tribal Housing Authority is accepting applications for a PART–TIME MAINTENANCE CUSTODIAN/WORKER. Excellent benefits.  Must have high school diploma/GED, valid driver's license, insurable, excellent cleaning skills, basic maintenance skills and painting skills.  Indian preference will apply. Submit Nez Perce Tribal Housing Employment application and references to Nez Perce Tribal Housing Authority, P.O. Box 188, Lapwai, ID 83540. For information or detailed job description call (208)843-2229. Closing date 06/24/2021 or until filled.