Tribal Gaming Commission
The Nez Perce Tribal Gaming Commission regulates the tribe's gaming enterprises to ensure honesty and fairness. In addition to implementing regulations, the commission:
Issues gaming licenses
Screens gaming employees
Oversees the compliance and auditing of gaming operations
Contact: Liz Minkey
208-621-4744 | lizm@nezperce.org
---
Fish and Wildlife Commission
It is the purpose of the FWC to protect, maintain and advance rights guaranteed to the Tribe in the Treaty of 1855 and to assist the Nez Perce Tribe administer its natural resources (fishing, hunting & gathering).  FWC holds bi-monthly meetings (including emergency and special meetings) to inform and gain feedback from tribal members on important fishing and hunting seasons and regulations, as well as other traditional use in practice that impacts usual and accustomed or on and off the reservation called ceded lands.  FWC will continue to reassess available resources, including those being severely impacted, and provide a identified comprehensive management objectives that include quality of life, production goals and landscape descriptions of all designated resources that may include water roots and plants, wildlife, fish, forestry, agriculture, minerals, recreation, community and municipal resources.  Additionally, the FWC works with the Department of Fisheries Resources Management (DFRM) and Department of Natural Resources (DNR) programs on the management of our natural resources.  These activities are coordinated with the Nez Perce Tribal Executive Committee (NPTEC) and its relevant subcommittees.
Mission Statement
Nez Perce Tribe Fish and Wildlife Commission will strive to ensure that the rights reserved under the Treaty of 1855, including the natural resources upon which these rights are inextricably linked, are protected, maintained, and enhanced in all areas or processes of natural resources management the Tribe is involved in at present and into the future.  Our geographic focus will be to advance our sovereignty and management jurisdiction at all on-reservation, off-reservation ceded lands and all "usual and accustomed" fishing, hunting and gathering areas of the Tribe.  The Commission will utilize traditional teachings, cultural values (including our tribal and personal history concerning this area, its resources, and the ethical obligations passed to us), along with contemporary resource management tools and concepts in an integrative approach to advance and maintain our way of life.
2020-21 Fish and Wildlife Commission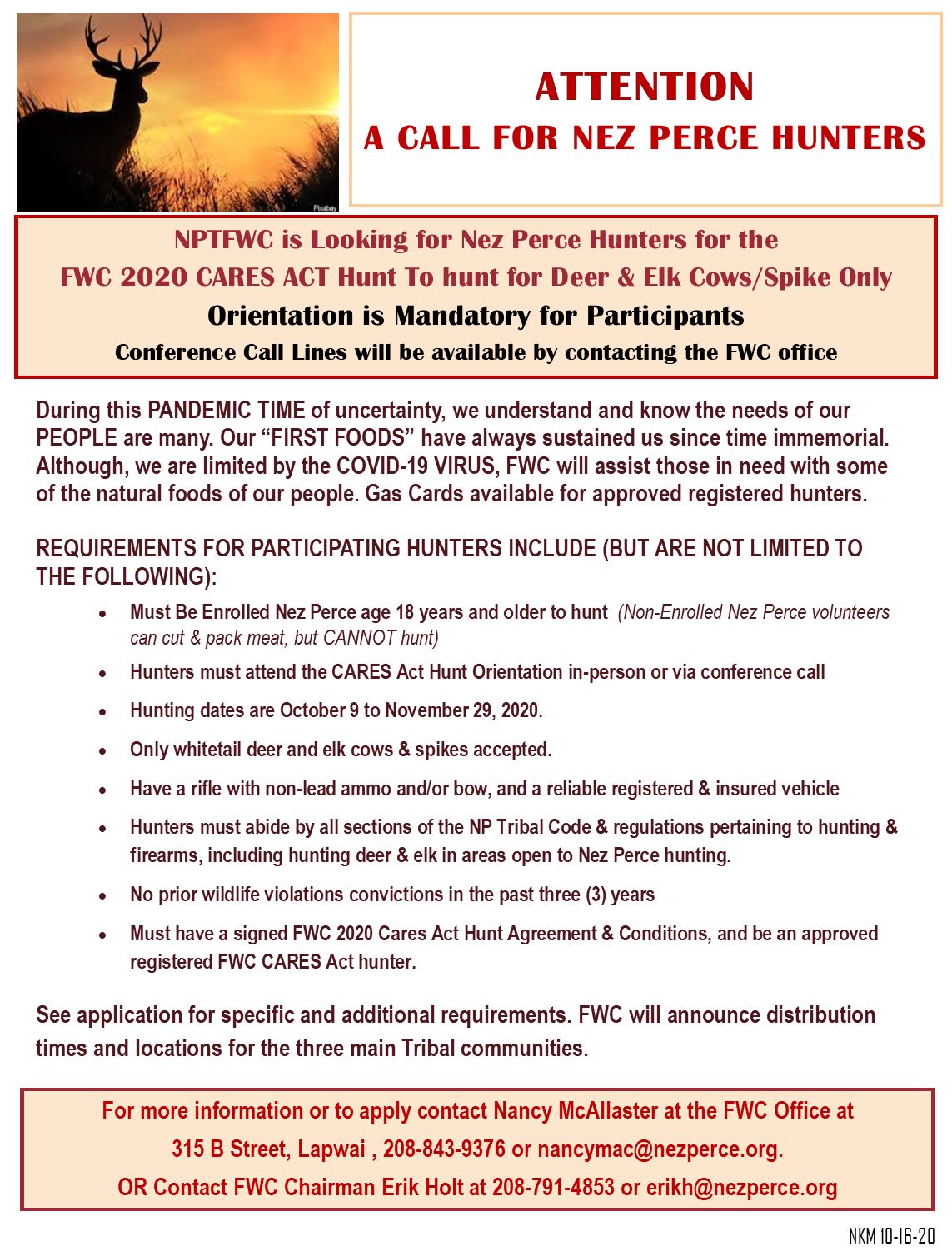 Vice – Chair Erik Holt – erikh@nezeprce.org
Secretary Nickles Twomoons – redwingt@nezperce.org
Member Michel McFarland – mikemcf@nezperce.org
Member Andre Picard, Jr. – andrep@nezperce.org
Regular Meetings are held at 5PM the second and fourth Monday of each month at the FWC building at 315 B Street, Lapwai, Idaho. FWC will meet at Orofino/Kamiah upon request. Hazardous weather conditions and holidays may cause change in time/date of meetings; however, there will be an announcement if changes are necessary.
Meetings are open to the Tribal public. Special meetings can be called upon the request of any commission member when they deem it necessary to conduct FWC business that cannot wait until the regularly scheduled meeting. For more information and/or if you have concerns and cannot attend meetings, please contact:
Nancy McAllaster- Administrative Assistant
208-843-9375 | nancymac@nezperce.org
FAX:  208-843-7381
P.O. Box 365, 315 B Street, Lapwai, ID 83540
—————————————————————————————————————Hunting & Fishing Regulations